What Kind Of Data Do You Need To Be Tracking To Meet Your Conversion Goals?
Who are the best kind of customers? The ones that never complain and keep buying from you and tell everyone they love you. You know the type.
They're the loyal ones.
If you're trying to grow a solid brand, loyalty should be on your radar. There are multiple definitions of what loyalty means to businesses. While loyalty programs, such as points, miles, coupons, are great, the type of loyalty you want from your customers is blind devotion, and refusal to look elsewhere. The problem is: loyalty is hard to obtain. It takes a lot of work and effort to gain trust, and along the way one slip-up could negatively impact all that hard work. It's a very delicate process, there's no question about it, but if done right the benefits far outweigh the drawback.
Take Apple fanboys for example. There weren't nearly as many of them around 20 years ago, but now there are tons, and Apple is the most profitable company in the world.
Coincidence?
I don't think so. They are the best kind of loyal customers, willing to pay a premium for products and line up for days before they're even out. These aren't exclusive models either, and, on paper, they're comparable to ones can be bought for nearly half the price. But people continue to buy from them. Why? These are customers that are loyal because they like the entire process, from the lineup to unboxing.
Gaining this type of loyalty is hard, but with businesses having the ability to capture more data, personalizing content is an easy way to start fostering a loyal customer. Let's explore three aspects of personalization that you shouldn't ignore.
1 – Profiles & Behaviors
Data can reveal a lot about someone: where they are, what browser they're using, what links they clicked and what kind of device they're on. It's a marketer's dream, and this information can, and should be used to help you increase your conversion.
In general, there are two types of data: explicit or implicit.
Explicit signals are hard facts: This user was on an iPhone in Canada, and clicked three links and visited the site four times.
Implicit signals are what you can deduce from the hard facts: It looks like this user was browsing items. Since he's from Canada, he's less likely to purchase than an American; but, since he's clicked three links and been to the site four times, he has a high chance of buying.
Turning implicit signals, which come in the form of data, into explicit signals and determining how you can initiate the sale can be a daunting task. NectarOM can simplify things and help automate this process in real time.
Customer profile
Once you have begun tracking your data, your next goal should be to create virtual profiles of your customers by combining data from multiple sources.
A profile describes a particular segment of customers with as much information as possible. This should include info like:
These are just a few examples of points you can use to build your own persona. When you have a clearer picture of your ideal customer, the next step is to describe them and turn them into real people. Only once you have a profile of your customer can you start creating a plan to market to them. There's no point wasting your time on strategies that might work.
How somebody is interacting with your content can tell you a lot about who they are and how they will interact with your brand. Generally speaking, mobile use accounts for a lot of search traffic as well as browsing, while computer/laptop traffic accounts for the majority of purchases.
2 – Test & Learn Strategies
What a simple world it would be if all leads came from the same place. You could focus all your marketing efforts on one thing and then clean up! But this is real life, and people are complicated. Different people hang out on various sites and can experience a brand in a variety of ways. One may prefer your Twitter feed, and another may frequent your site. Where they access your brand influences what they buy.
You can use this knowledge to your advantage by sending unique channel offers. For example, we all know Instagram is ideal for sharing images, so depending on what kind of images your audience's feed is filled with, you could make something that blends in and barely looks like an ad. In this example from Qaloring, it's not clear that they're selling anything, and all you see is a woman in exercise clothes.
People on Twitter are usually looking for some interesting news, delivered in the iconic 140 characters or less and is a great place to promote your product with a catchy headline that gets people curious. Looking at the example from Ideapod; they play to people's egos and drum up a bit of intrigue.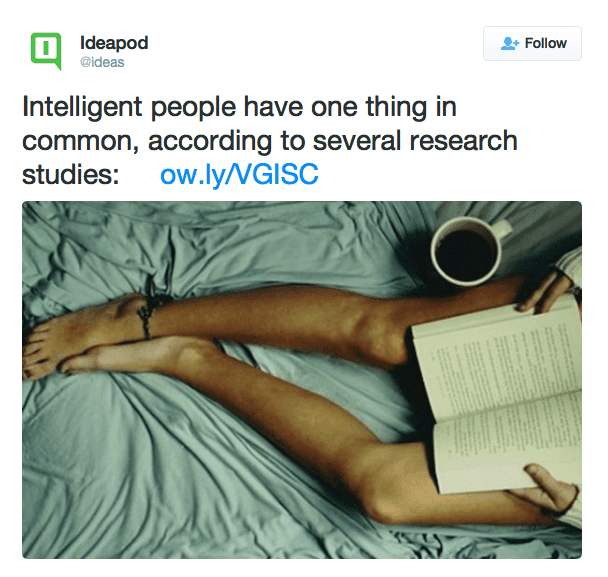 Am I smart? Heck yes! *click*
It can also be used to easily tag influencers in the industry to try and drum up some buzz for your product.
Facebook is a mix of the two, allowing more headlines but also a lot of space for an image. This ad from Jetsetter gets right to the point with a clear offer and beautiful picture.

Giving messages that relate to how people like to interact with a brand is the key to success. Make sure you're not only thinking about the marketing campaign but how people will interact with your campaign over all sorts of channels and devices that you're choosing to run it on. The more specific and targeted your campaign is, the better it will perform.
3 – Automated Activation
Knowing all of this information is great, and any business owner should be doing everything they can to leverage this wealth of data that is at their disposal, but if you aren't using or tracking this information, then you're wasting your time. We here at NectarOM have an orientation toward action and apply marketing automation, predictive analytics and trigger based communications. Our system allows you to put this data to work. That way you can create detailed user profiles and implement laser precision campaigns.
No matter what your business model is, trigger based messages can help foster loyalty and increase your ROI. Making each customer feel special by delivering content based on their actions is a surefire way to keep them coming back.
With e-commerce, you're always in the trenches, so to speak, looking forward to that sale and email notification coming through. Automated personalization has been proven to help with cart abandonment, by sending a follow-up email a day or so later. This can help bring people back to the state of mind where they were about to purchase, and could seal the deal.
As a corporate marketer, you're more concerned with activating users because it's necessary for continued subscription and a long term relationship. Sending a series of tips during a trial period, and capping it off with a 'last chance, the trial is expiring' email is a great place to start, and sure to get a conversation going with customers looking for an extension.
In a brick-and-mortar setting, clienteling, or providing a personal touch to shoppers can go a long way to building loyalty. This is usually achieved by using software to learn about customers preferences, behaviors, and purchases, and then having sales reps connect with customers in meaningful ways.
The Loyalty Effect In Action
At the highest level, getting all these systems in place can create machine-learning recommendations, which, if you can attain, mean a constant stream of business. Just look at what Netflix is up to:
"A study from Wharton cited that Netflix reported 60% of its sales came from machine-learning recommendations, and 35% of Amazon sales came from system-generated suggestions. Regarding increasing engagement, Venture Beat reports that personalized email subject lines can increase open rates by up to 41%."
With industry leaders like Netflix heavily pursuing customization and machine-learning, it needs to be on your radar of things to implement. By keeping your messages relevant and personalize, you'll be able to not only see the benefits in the form of increased revenue but will be able to keep your customers loyal – and more importantly, coming back.
This stuff can get complicated, and there are a lot of plates spinning in the air. But by focusing on your ideal customers and giving them personal attention, you'll be able to keep them around. For businesses looking to deliver automated personalized omni channel experience book a free consultation with us here at NectarOM to discuss a strategy for your business.